So Mommy has been having a tough time- they think maybe she got Lyme cutting the neighbor's yard but nobody is really sure- she had to take lots of medicine and is starting to feel better but had lots of hard days the past month and still has some aches and pains. Mommy said she is willing herself to get better and is going to take very good care of herself so she can heal her body. So you know even when mommy didn't feel good she wanted to go see me sooo much but can't right now. She decided to replicate my memorial at home.
Mommy bought the same solar flowers and ordered another memorial stone just to have a special place for me until she can go visit me again at the memorial park. I mean mommy knows I'm always with her but since she's had such a hard year I've been coming around a lot to give her love.
The night  mommy finalized the proof for my new memorial stone I came in her dream – running into the bedroom smiling as a tripawd ready to snuggle up with her (I wasn't a big snuggler but mommy loved it) and she was so happy she couldn't believe it, but was sad she woke up so fast. So then I thought I probably need to show up for mommy twice as much.
So … mommy had just wrote to grandma that she didn't know when my stone would come and as soon as she hit send on the email an email came through from the seller telling mommy the stone  was shipped! A couple weeks later mommy woke up and the stone was there.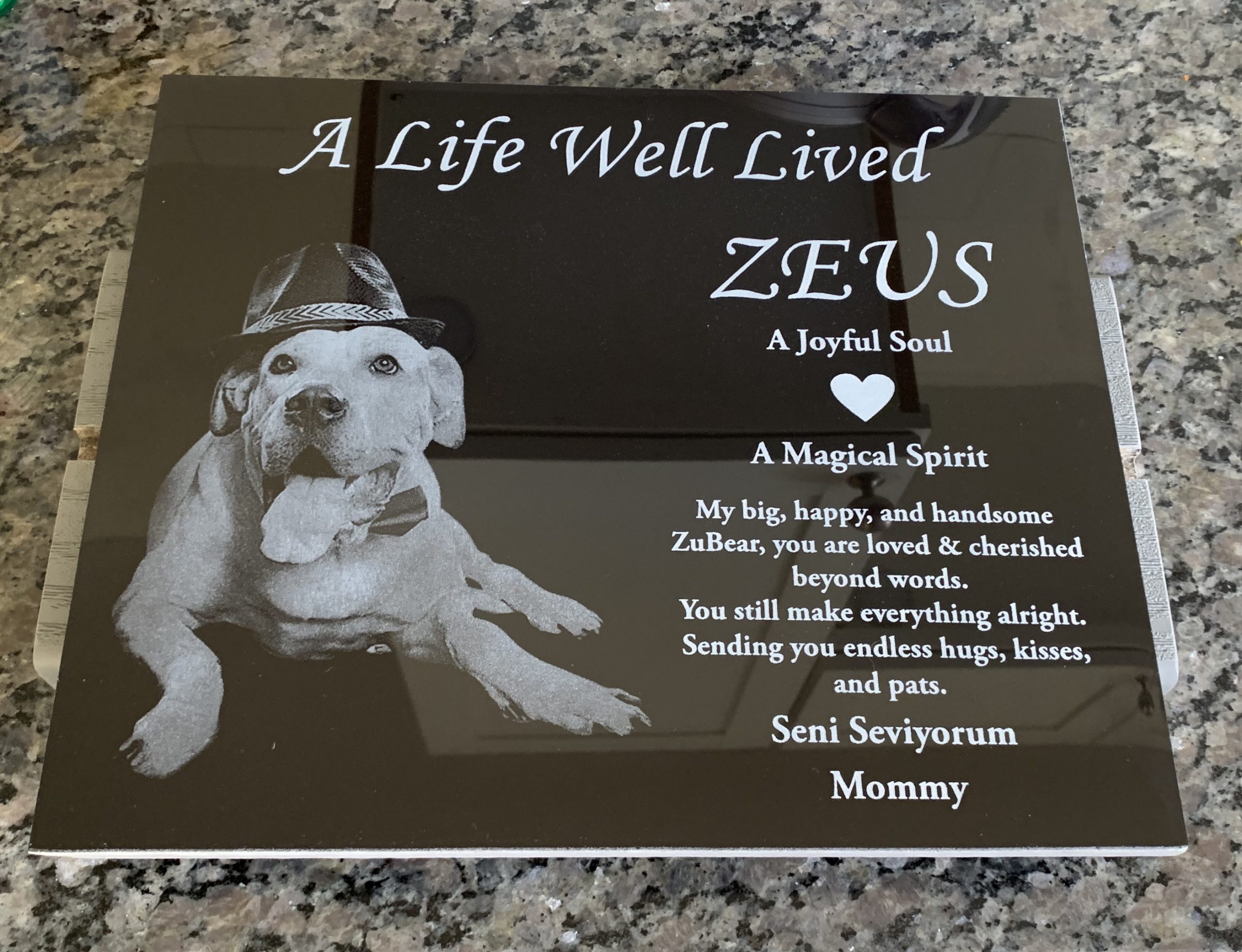 She went to take a nap and when she woke up she accidentally hit her phone and looked down and I had our song on her phone screen. Mommy laughed out loud- she said "of course you would Zuzu"- you know me mommy! I had to let you know that I love my new memorial! I'm always with you mommy. I know things are so hard right now but they are going to be so much better in time. I'm always here mommy always always you protector and guide mommy. You never have to worry about me going away because you are my special person and I'm your angel. I'm with you everyday- you gave me the best life mommy and I'm going to give you the best life too.   I'm your ZuBear. Love you forever mommy!