Tripawds is a user-supported community. Thank you for your support!
So I have these things called 6 week check-ups where mommy takes me all the way back to the doggy hospital in another state (it's almost an hour!). I still get the shakes in the waiting room because I remember when I had to stay overnight  for my amputation without mommy or daddy for 2 whole nights! So anyway, they always tell me how cute and strong I am and steal my blood and sometimes make me get x-rays! This time they told me to go pee and I said are you kidding me? I'm a grown man (5 next month to be exact) I only pee in my own yard! So mommy had to do that part and take it to my regular vet  (sorry mommy for the extra trips). They said my labwork was great, but that I have a UTI so I have to take some more medicine this week to make it go away. Sheesh all these pills!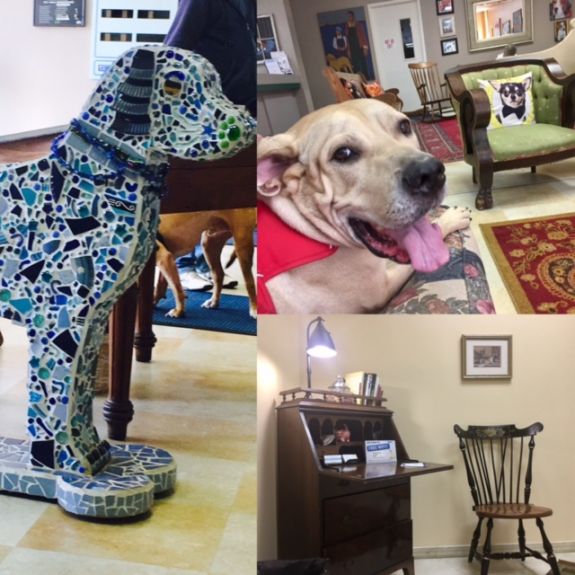 So mommy also found out that my paw sores are from my allergies too! Guess I'm just a sensitive guy or something. The vet said I need some medicine and antihistamines to help them get better. She also told mommy to alternate soaking my feet in epsom salt and chlorhexidine solution with water. The first time mommy thought it would be noooo problem because I walk right into the treadmill at water therapy. She was WRONG. I fought her and refused to step inside the stupid bin she filled with water! I backed up and dropped all 96 pounds so I was one big heavy weight. I totally thought I won that battle. Well… she remembered a trick a vet tech told her and whipped out a ziplock (mommies are TOO resourceful)! But at least I get to lay down while she soaks me (so I guess this is what they call a compromise). My "tootsies" are already looking better according to mom and now I'm curled up tightly like a snail sleeping soundly and she can't get to my feet if she tried! Bet nobody thought a mastiff could curl up this small, but I CAN!